.: About KH6LC
I was first licensed in 1966 as WN6TRR/WB6TRR in Fremont Calif. I had a great Elmer in Bob Harris WB6OKE, now W6FV.
My family farmed vegetables along the East Bay shore when the Bay Area still had farms and orchards. As a new ham, I joined the Hayward Radio Club where I met Bob Vallio W6RGG. Upon moving to Santa Cruz County in 1972, one of the first people I met was Dave Rowley WA6UZA / N6RZ now a SK. It was Dave who introduced me to contesting and the Northern California Contest Club (NCCC).
Dave also shamed me into upgrading both my license and CW skills. I became AA6T and held that call until 2003.
I spent 32 years with Pacific Bell (now AT&T) in Santa Cruz County, CA, the last 22 of those in Electronic Switching Systems.
In 2003 I purchased my 4 acre home near Hilo Hawaii and the following year retired and moved over permanently.
Besides ham radio, I enjoy riding my 1983 BMW R100RS that I have owned since new. It has carried me all over North America, from Alaska to Mexico.
I am also into vintage motorcycles, particularly older BMW and Ducati models. I also enjoy vintage sports car racing, and raced a 1965 Lotus Super 7 in vintage road races up and down the West Coast for several years before retiring to Hawaii
Out here I ride a vintage BMW with a Velorex side car attached. The perfect vehicle for Hawaii!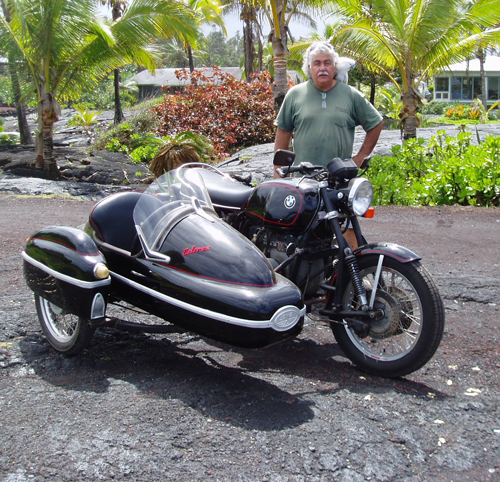 1977 BMW R100S with Velorex 560. Built by Bob Grauer, San Jose, CA
.:
The Cabral Family, (L-R), Ricky, Ginger, Lloyd, and Lucy
.:
Lloyd with some future "hams" that abound in Hawaii
.: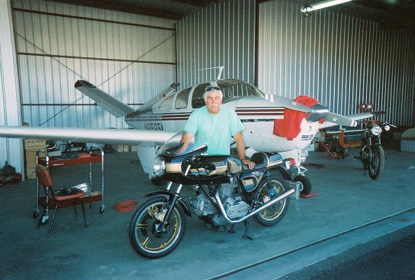 Lloyd's 1979 Ducati 900 SS